"
Once-grand Canfranc was known as the Titanic of the mountains, but fell into disrepair thanks to fire, derailment and war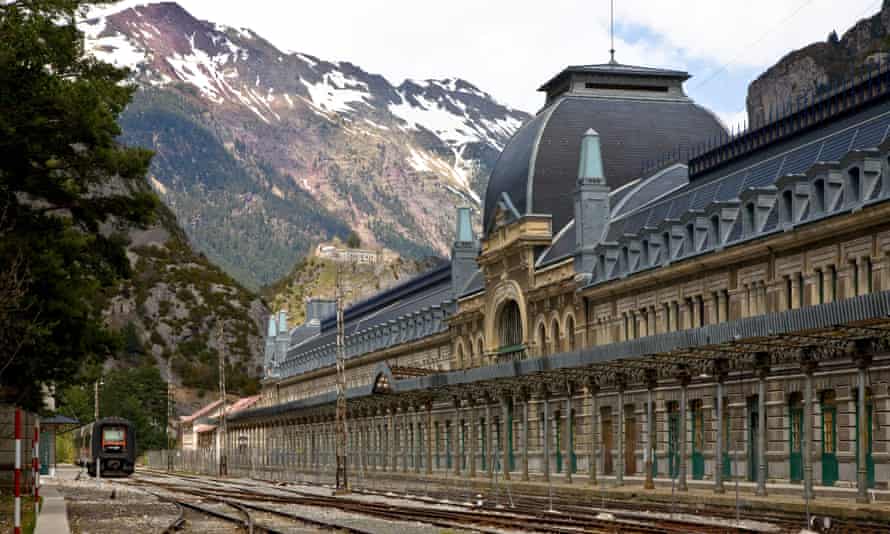 It earned the nickname "Titanic of the mountains", but now the monumental and ill-fated train station at Canfranc is to get a new life as a five-star hotel, 51 years after the international rail link across the Pyrenees closed.

Today, the station operates only a modest Spanish domestic service.

The 104-room hotel is being designed by architects Joaquín Magrazó and Fernando Used in conjunction with the regional government of Aragón and the Barceló hotel chain. The budgeted cost is €27m, of which the Aragón government will contribute €12m to repair the tracks and develop the surrounding area.

The facade will be preserved but a new station is being built behind the existing one and will be entered via the hotel vestibule. The complex will include a 200-seat conference centre, a railway museum, shops, and a pilgrim refuge, as Canfranc is on one of the routes to Santiago de Compostela."


-- Canfranc station on the Franco-Spanish border.
...
Photograph: Bildarchiv Monheim GmbH/Alamy
Read the full article at [
www.theguardian.com
]
Gsearch [Canfranc] -- [
www.google.com
]
Wikipedia --
Canfranc International railway station
-- [
en.wikipedia.org
]